In March, Forbes "30 under 30" game changers are presented. Among all candidate submissions, Zhou Wei, 29 year-old CEO of INMOTION Technologies Co. Ltd., become most shining supernova, the only candidate received full consent from all 8 judges of nomination committee.
"INMOTION Senor Controlled Vehicle is not simply transport tool, but a ROBOT. it is Mobile Intelligent Platform." Zhou Wei, INMOTION CEO.
In the past decade, Segway created a self-balancing transporter and aroused the public's curiosity, but they failed to establish a link between product and consumers' enthusiasm.
Zhou Wei, 29-year-old CEO of INMOTION, looks more like a well-educated IT engineer, instead of a maverick geek entrepreneur. Perhaps, at this stage, he has not adapted to be interpreted or observed. Before graduating from university, the six INMOTION co-founders trumped FIRA Rodocup 2007, and then Zhou Wei began his dream as an entrepreneur. Inspired by the saying of Bill Gates "Robot will be a part of every household, like PC." Zhou Wei led his team to establish INMOTION.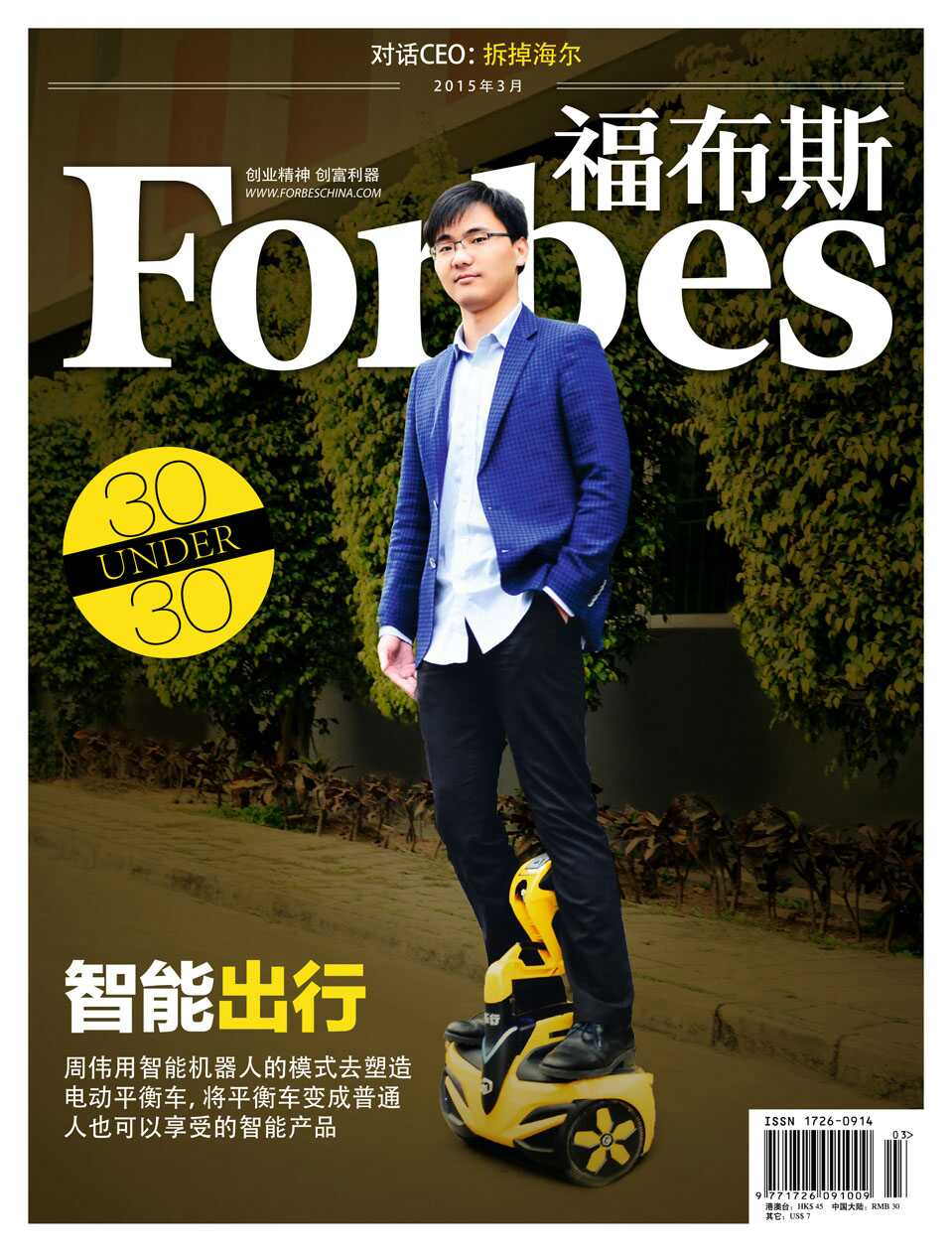 (Zhou Wei, 29 year-old CEO of INMOTION Technologies Co. Ltd)
In 2012, Zhou and his team founded INMOTION; in January 2013, INMOTION raised seed capital from angel investors; in autumn 2013, the first INMOTION SCV went off the assembly line. On December 5, 2014, INMOTION announced its Series B financing of RMB$100 million (US$16 million). In 2014, INMOTION took over 60% market share of personal transporter.
"INMOTION gained lots of experience for these two years. We are not greedy. We are focusing on understanding our customers and providing most cost-efficient products, solve consumers' pain points."
INMOTION SCV is targeting who commutes within 5km radius living area to solve the last mile issue. INMOTION's market shifts from niche to mass, people like car owners or swingers with buying power. Price also has dropped to affordable level.
Zhou Wei also mentioned that Intelligent Home is the future direction for intelligent robots. Robots need to act like humans, communicate with humans, contribute to human life and adapt to different environments. IntelliSense will be always core issue for INMOTION. INMOTION will become an intelligent assistants merging into people's life.
In early 2014, two partners of Xiaomi visited INMOTION five times, Xiaomi want to acquire share from INMOTION. However, As a team of creators INMOTION keep holding their core spirit and did not kneel to giants. INMOTION turned down Xiaomi's investment since he wants to create products which brings customer superb experience and promotes customers' life quality.
Future direction of INMOTION team is on Machine Learning. INMOTION want to make robot interact with human beings and adapt to various environments. In the future INMOTION may open-source their hardware interface, enabling users to upgrade their INMOTION by installing different senor modules.
In the future, INMOTION products will be more intelligent.
Contact
For distributors: info@imscv.com
For technical support: service@imscv.com
Phone: 0086-755-2690-6865
Official Website: https://www.inmotionworld.com
About INMOTION
INMOTION Technologies Co., Ltd. is a high-tech enterprise specializing in the research and development of electric unicycles, two-wheel scooters, electric bicycles, e-skateboards, etc, which are available in over 50 countries and regions of the world.